Spanish courses in Bilbao
Not just a Spanish course
MondragonLingua Bilbaooffers a variety of Spanish programs that adapt to the needs of different groups and individuals. Our main objective is to to offerhigh-quality language training so that our students can communicate effectively in Spanish.
Your course will end up being an unforgettable experience
In-person Intensive Courses
Features:
Small groups: Maax. 8 people per class.
Age: 17 and older.
Levels:: Beginner (A1-A2), intermediate (B1-B2) y advanced (C1)
Starting date:: You can enroll and start the course any Monday between September 7 and July 23.
Duration: 1, 2 or 3 weeks.
Schedule: 4 hours / day. 10 am – 2:30 pm, with a 30 min lunch break.
Proprietary Methodology
Task Based Language Learning:Consisting in the real use of the language by exposing the student to real contexts where the language learnt can be put into practice.
Flipped Classroom methodologies
Complementary Digital Learning Resources available.
Course rates:
1 week : 170€ / week

2 weeks: 160€ / week

3 weeks: 130€ / week
Online Courses
Features:
Personalized Course

Age

: 17 years old and up.

Levels

: Beginner (A1-A2), intermediate (B1-B2) and advanced (C1)

Starting date:

You can enroll at any time.

Duration

: 9 months

Schedule

: You choose your timetable.
Proprietary Methodology
Learn on our Online Site, with no time limits.Progress at your own pace.
Activities designed to practice every skill:

Oral production and comprehension, writing and reading, grammar & vocabulary.

Speaking Practice

: weekly 20 min. videoconference session. Schedule to be agreed on between the students and the teacher.

Tutorial Session

: You will be assigned a tutor that will guide you, encourage you and help you with doubts.
Course rates:
9 month course: 1460€
We offer tailored solutions to every problem
Planes de formación multimetodológicos adaptados a las necesidades de cada empresa.

Itinerarios personalizados para expatriados.

We use LINGUATEST our own proprietary Online Placement Test Platform to ensure accuracy when assigning levels. LINGUATEST is adapted to the official MCER levels based on the different professional competences.
LINGUACAMPUS, is the digital ecosystem adapted to FUNDAE requirements in order to comply with the official guidelines for Online Training at companies.
Guidance on the management of public funding from FUNDAE.
LINGUATRACK. Our proprietary monitoring tool that allows us to track every aspect of the course in real time.

Individualized follow-up in the tutorial sessions where tutors will encourage students and help them to take full advantage of the courses.

In-house IT team for the development and correct functioning of the digital tools.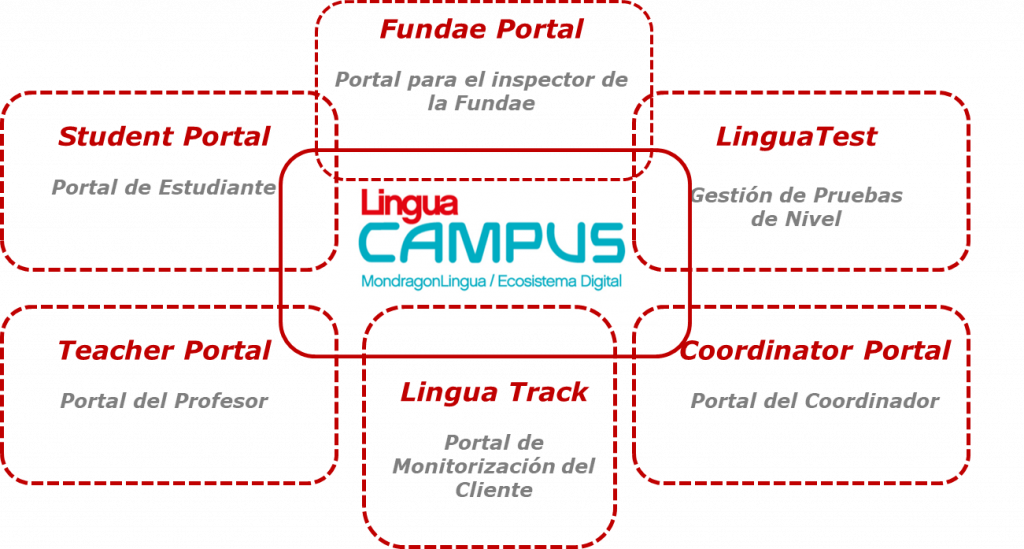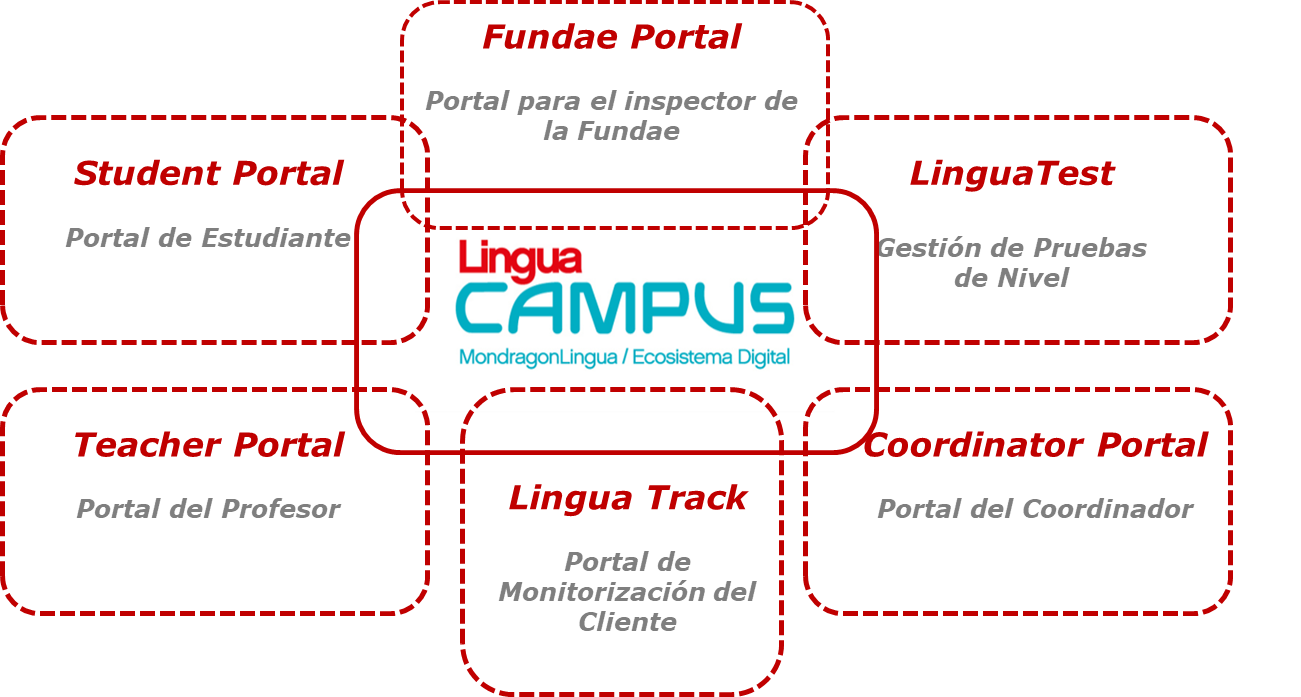 the following levels are offered in every learning format
Objetives
Start to speak in Spanish

Express immediate needs in the present

Understand common idioms

Describe the environment using easy terms

have short conversations about everyday and personal aspects

write simple texts

Describe past actions
Contents
Personal pronouns

Demonstratives

Articles

To be verbs ("ser o estar")

Present indicative

Past simple ("pretérito indefinido")

Introduction to the future

Irregular verbs in the past

Past Imperfect ("pretérito imperfecto")

Uses of the infinitive

Exclamatory sentences

Basic impersonal uses

Fluency and socializing in Spanish

Idioms

Express need

Ask for permission, and make inquiries.

word stress and intonation

Basic rules of accentuation

Basic quantifiers
Objectives
Read easy informative texts

Read easy literary texts

write emails and compositions about everyday aspects

Have conversations suing both the past and future tenses.

Give detailed information on everyday and personal topics.

Express oneself fluently enough to get the point across clearly.

Start to have longer conversations on specific topics
Contents
Cause and effect

Probability

Express feelings and sensations

Describe a place in detail

Describe people physically and their character.

All past indicative tenses

Verbs like "gustar"

Verbs with preposition

Present Subjunctive

Discursive connectors

Quantifiers

Comparatives and superlatives

Express pros and cons

Ask for appointments and arrange timetables.

Write a review

Argumentative connectors

basic indirect style

Impersonal structures

Speculate about the future

First conditionals

Explain linguistic content
Objectives
– Discuss and defend viewpoints
– Learn and use idiomatic expressions
– Read easy informational, literary or technical documents.
– Learn about the different varieties of Spanish and their origin.
– Be able to speak on the phone about common or technical topics
– Ask for detailed information and then explain it to a third party.
Contents
– Use of prefixes and suffixes
– doble gender adjectives
– Morphology of the indicative verbs
– Second and third conditionals. The use of the subjuntive for past hypothesis.
– Social standards, social behaviour and taboos in Spanish speaking countries.
– Persuade and convince
– Oral and written registers
– Good definitions
– Make polite suggestions
– Uses of the imperfect subjunctive
– Advanced reported speech: tense changes.
– Subordinate sentences
– Use of "lo" + adjective.
– Impersonal language
– How to use the participle and the gerund
– Common erros and dialectical accepted uses..
MondragonLingua Bilbao is an ample Language School located in Downtown Bilbao incredibly well connected by train, metro and bus. the 350 sq. meters are divided into 5 classrooms, offices for the administrators, a teachers' lounge, computer stations, library and a very comforatable open space for chilling between classes. Strong WiFi connection is available in the school.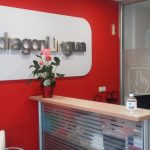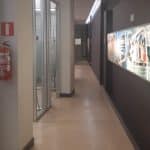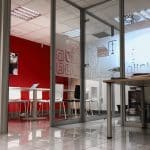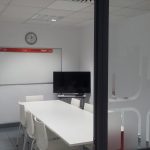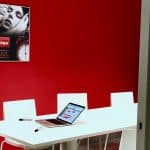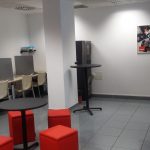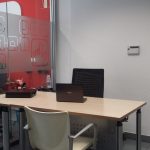 Blas de Otero University Dormitories
Walking distance to MondragonLingua/ Excellent location / Very centric/ Study rooms / GYM / individual and double studios/ Studios with kitchen/ ResaHub Activity Program/ Front desk and concierge service / Open all year round / WiFi
Dorms with Individual ensuite rooms.
Approximate rates:
Our School organizes a range of cultural activities that will allow you to enjoy the local culture and gastronomy, as well as practice your Spanish outside the classroom. Some examples:
Free Activities
Visit the Old Town

Visit the surroundings of the Guggenheim Museum
And afternoon at Ereaga Beach
An afternoon at Mount Artxanda. Funicular ride
The Fine Arts Museum
Visit the famous Arabian Room at the City Hall. of Bilbao
Basque Museum
Santiago Cathedral and Basilica of Begona
Live Music; BilboRock
Coppola,
Maritime Museum
Alhóndiga; Exhibits
Arriaga Theater; visit
Paid activities
Guggenheim museum

Theaters

Escape Room

Vizcaya Transporter Bridge

Bilbao BBK Live Music Festival

Day-trip to San Juan de Gaztelugatxe (a.k.a "Dragonstone" in Game of Thrones).

Day-trip to San Sebastian

Day trip to a Rioja Winery

Day-trip to Vitoria
In recent years Bilbao has become one of Spain's main touristic destinations In recent years Bilbao has become one of Spain's main touristic destinations. Awarded as "BEST EUROPEAN CITY 2018" by the international organization "The Academy of Urbanism", Bilbao's architecture showcases a perfect mix between traditional styles and avant-garde buildings by world renowned architects such as Gehry, Foster, Calatrava, Moneo, Pelli and so many others.
Arts and culture is now one of Bilbao's main attractions thanks to the Guggenheim Museum, The Fine Arts museum and the unparalleled music agenda both for classical and contemporary music.
Bilbao's internationally awarded gastronomy, with its restaurants and a thriving bar scene give the city that characteristic vivid and cheerful vibe.
In Addition, the city's extraordinary location, just 15 kilometers away from the beaches and all the surrounding mountains make Bilbao ideal for practicing outdoor sports.